Stop Counting Calories and Start Counting Fiber for Better Health
Want to lose weight? Eat more fiber. Looking to lower your cholesterol? Eat more fiber. Need to reduce your risk of colon cancer? Eat more fiber. Want to prevent diabetes? Eat more fiber. Want to stop overeating? Eat more fiber. Bottom line? Eat more fiber!
The Fiber Effect is your guide to meeting your daily fiber needs and so much more. Because foods rich in fiber typically contain a wealth of other healthy nutrients, increasing your fiber intake means increasing the overall quality of your diet. That's the fiber effect—better health through fiber.
The food we eat is what powers our bodies—the better we eat, the better we look, feel and perform. Yet less than five percent of Americans are getting the recommended amount of fiber per day—a vital nutrient that can do many things from regulating blood sugar to lowering cholesterol to creating a healthy gut.
The Fiber Effect includes a detailed overview of the vital role fiber plays in our body, helpful tables that lay out what to eat and when, 40 delicious fiber-filled recipes that anyone can enjoy and weekly meal plans to create a complete, fiber-rich diet. The book also contains tips and tricks to help anyone increase their fiber intake.
About the Author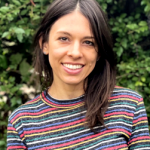 Nichole Dandrea-Russert, MS, RDN, has been a registered dietitian nutritionist for 25 years, specializing in heart disease, diabetes, sports nutrition and women's health. For the past ten years, she has focused on plant-based lifestyles through inspiring and educating people about plant-based eating to optimize their health and the health of the planet. Nichole has been featured in Yoga Journal, Veg News, Huffington Post, Rachael Ray and the Atlanta Journal Constitution through her plant-based chocolate company, Nicobella Organics. She's a plant-based nutrition contributor on The Weather Channel and is currently the Recipe Developer and Culinary Coordinator for Food Revolution Network. She also has a plant-based blog, Purely Planted, where she shares wellness tips, recipes and inspiration. She currently lives in Atlanta, GA.
# # #
THE FIBER EFFECT
Written by Nichole Dandrea-Russert
978-1-57826-888-7, $15.00 paperback
978-1-57826-889-4, $9.99 ebook
Published by Hatherleigh Press.
Distributed through Penguin Random House.
Available wherever books are sold.