Who doesn't love pancakes? With over 75 delicious recipes from the traditional to the more complex, this new cookbook will have something for everyone.
The pancake is the classic comfort food! Just imagining a short-stack of flapjacks drizzled with maple syrup will bring a smile to anybody's face. But did you know that pancakes can be so much more?
Pancakes Make People Happy is a cookbook for everyone who loves pancakes. From savory, satisfying brunchtime fare to light, sweet desserts, pancakes are the perfect food to nourish body and soul.
Pancakes Make People Happy features over 75 unique pancake recipes that are as easy to prepare as they are to love, including Old Fashioned Buttermilk Pancakes, Jalapeño Corn Fritter Pancakes, Crispy Risotto Pancake, Monte Cristo Pancakes, Citrus Mimosa Pancakes, Pancake Muffins,  Eggnog Pancakes, Indian Chai Spice Pancakes, Christmas Tree Stack, Black Forest Pancakes and so much more.
With authors hailing from the Catskills area of upstate New York, the recipes are farm-fresh and wholesome. Gluten-free, vegan, vegetarian, and dairy-free recipes are included. Pancakes Make People Happy has everything you need to start enjoying this delicious food in no time. Put a little happy on your plate!
About the Authors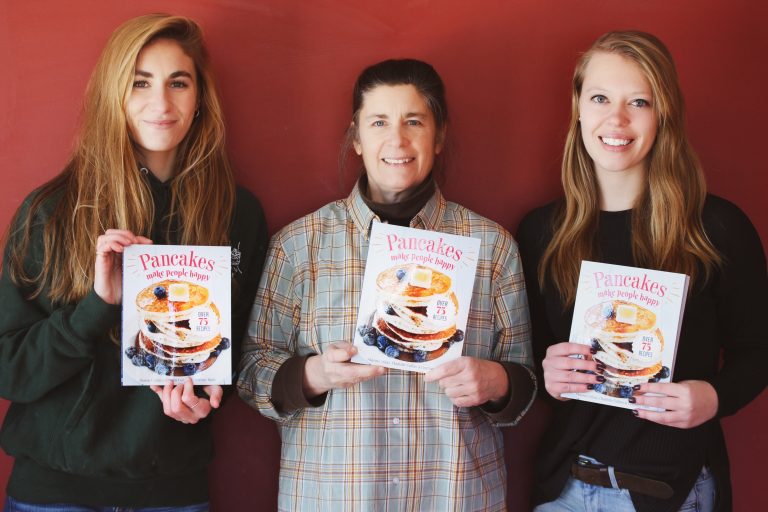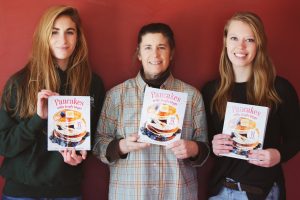 Sharon Collins is a Catskill Mountain native and lifelong farmer. She grew up on a dairy farm and transitioned to a pure maple syrup and specialty food manufacturer in 1990. Her fascination with home grown and locally produced, seasonal products has fueled her entire business model as the owner and operator of Buck Hill Farm.
Charlotte Collins is a third generation farmer in the Northern Catskills of Upstate NY. She has been on a plant-based diet for over 12 years which has inspired much of her interest in creative cooking. Charlotte lived in New York City for 6 years working in fitness instructing, PR, and sales before returning to her family farm.
Courtney Wade lives on a farm in the Catskills mountain region of New York and has an intense passion for farm fresh food. With both a degree in graphic design and agricultural business from the State University at Cobleskill, she understands the importance of and promotes supporting local producers by purchasing seasonally grown products.
# # #
PANCAKES MAKE PEOPLE HAPPY
Written by Sharon Collins, Charlotte Collins and Courtney Wade
978-1-57826-875-7, $20.00 paperback
978-1-57826-876-4, $12.99 ebook
Published by Hatherleigh Press.
Distributed through Penguin Random House.
Available wherever books are sold.