"Thorough, thoughtful, and compelling. An industry game-changer and a terrific look at what makes one brand or person influential." —Katia Bassi, CMO, Automobil Lamborghini

"The Influencer Code enables you to leverage marketing as an asset instead of an expense. It arms you with a new way of thinking about a still evolving digital age." —Andy Roddick, World Champion tennis player
More than a 'how-to' book, The Influencer Code is a 'how-to-think' book that will change the way you approach every idea and campaign, making you a bulletproof marketing force.
From Fortune 500s to local fitness studios, the future of marketing depends on forming authentic partnerships. Written by Amanda Russell, an accomplished entrepreneur, professor, and award-winning YouTube star, The Influencer Code is the essential reference for any company looking to leverage the full power of influence to elevate their brand.
The Influencer Code simplifies the complex world of "influencer marketing," and provides groundbreaking insight on how to research, evaluate, and employ the right influencers for your market, as well as how to legally and strategically integrate them into marketing campaigns to achieve specific goals.
The Influencer Code dispels the biggest myths which even the biggest brands are getting wrong and shows you how to get it right by defining and showcasing what true influencer marketing is and how to leverage it to achieve your business goals in a simple yet powerful 3-step code.
About the Author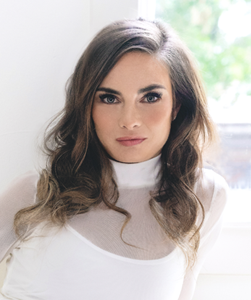 Amanda Russell is an international marketing strategist, speaker, educator and entrepreneur who has been at the forefront of digital marketing and the social media revolution from its infancy, selling her first company by the age of 32. After building online fitness subscription community Fit, Strong & Sexy to over 80,000 members, she went on to co-found the Interesting Agency, offering full-service brand strategy, marketing, and content production services.
Influencer Marketing as an accredited course was created by Amanda at UCLA and has become a movement, establishing itself in schools across the world, including Harvard and the University of Texas, where she now teaches, while continuing to advise some of the world's top companies. Amanda graduated from the University of Richmond and holds an MBA in Marketing. Learn more about Amanda at www.amandarussell.co.
More Praise for The Influencer Code
"The Influencer Code puts a new meaning to influencer marketing and defines it more accurately and innovatively than it has been before." —Brandon Scott Roye, Marketing Strategist, Google

"Finally, the essential guide to influencer marketing has been written. Ignore this book at your own risk." —Jesse Itzler, founder of Marquis Jet & New York Times bestselling author

"Amanda is simply a force to reckon with in the influencer marketing industry and without question one of the most valuable marketing experts you will find." —Shane Barker, Forbes Council

"Amanda is one of those rare professionals who has mastered many trades and has provided a positive impact on my course, helping students to 'see the light,' and bridge from books to the real world." —Greg O'Brian, CEO and co-founder, Noodle.Com and Professor, Harvard University

"…an impactful book that will teach you all you need to create and implement an effective influencer marketing strategy." —Neal Schaffer, author of The Age of Influence
# # #
The Influencer Code
Written by Amanda Russell
Foreword by Jesse Itzler
978-1-57826-824-5, $25.00 paperback
978-1-57826-825-2, $15.99 eBook
www.theinfluencercode.com
Published by Hatherleigh Press.
Distributed through Penguin Random House.
Available wherever books are sold.